Eye Health Is For All Ages
Eye care is an important part of overall health, for children as well as adults. Children experience the added challenge of being unable to determine a baseline of what is normal vision and what is not.
Regular, comprehensive eye exams can help determine whether your child has normal visual acuity or a refractive error as well as detect the presence of any ocular conditions.
Children's eyes play an integral role in their overall development. When vision problems go undetected and are left untreated, they can impact your child's success in school and beyond.
Protect your child's eye health, as well as their vision, by booking an exam.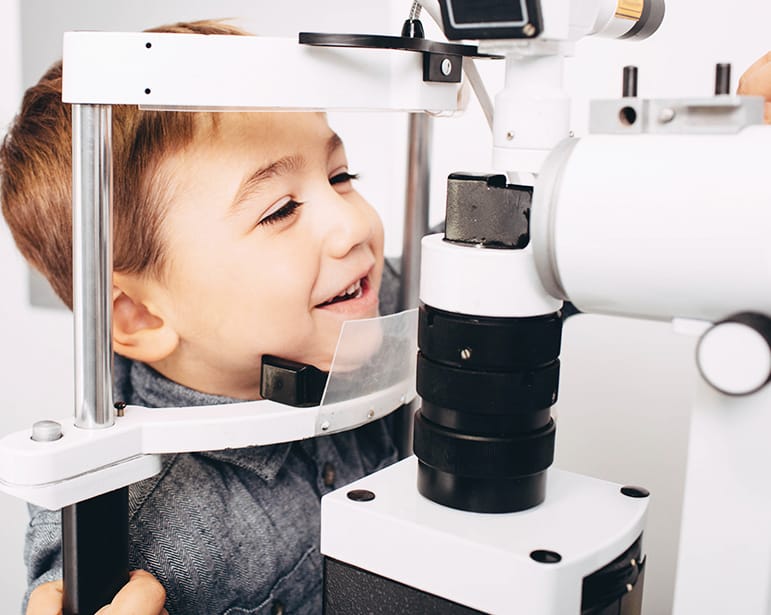 Nearly 80% of what children learn is gained as a result of their vision. Children's eyesight affects many aspects of their development, from improving fine and gross motor skills and language skills, to reading, writing, and social interactions.
25% of Albertan children start school with an undiagnosed vision problem. The first few years in school are critical to a child's success, and an eye health or vision problem can interfere with their ability to learn.
Undiagnosed and untreated vision problems can lead to:
Frustration with school
Learning at a slower rate than their peers
Behavioural and disciplinary problems
Negative self-image
Higher risk for dropping out of school
Lifelong disadvantages and underachievement
Regular eye exams are essential for removing barriers to success that may be caused by a vision problem.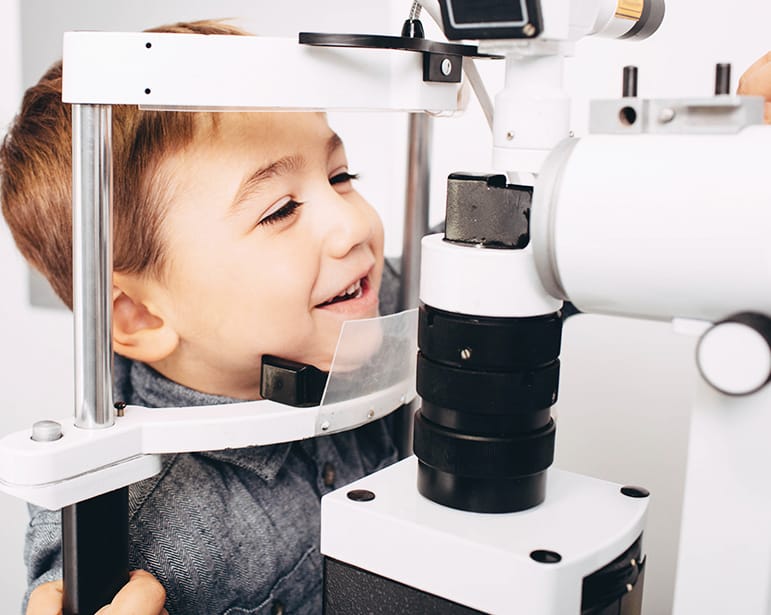 When Should Children Have Their Eyes Checked?
Since the eyes grow and change as children develop, eye exams should occur regularly.
To help protect your child's eyes while they grow, Alberta Health Care covers a complete annual eye exam for children from birth to the age of 19. To ensure that every child who needs corrective eyewear gets it, Eye See…Eye Learn™ provides free eyeglasses to kindergarten-aged children who require a prescription.
If you would like to participate in the Eye See…Eye Learn™ program, please let us know at the time of booking, and we can provide further information.
What to Expect During a Children's Eye Exam
Our children's eye exams include testing for:
Myopia

(nearsightedness)

Hyperopia (farsightedness)

Hand-eye coordination

Focusing powers

Peripheral vision
We believe that preventive eye care is the best strategy for starting children on the path to success. Regular eye exams establish a baseline for your child's eyes and monitor their eye health and vision quality. Book an exam with us today to learn more.
What Are Some Signs of a Vision Problem in Children?
It can be difficult to tell when a child is experiencing a vision problem, owing in part to the child being unaware that something is wrong. There are, however, some signs that may indicate the presence of a vision problem, including:
A dislike of close-up tasks like reading or playing with Lego

A short attention span

Daydreaming during work time

Skipping words, letters, or lines when reading or taking notes

Using a finger or moving the head to track when reading

Trouble reading

Difficulty remembering or poor comprehension of what was read

Delayed learning of the alphabet

Persistent letter, number, or word reversals

Not completing assignments on time

Difficulty with geometric shapes

Poor hand-eye coordination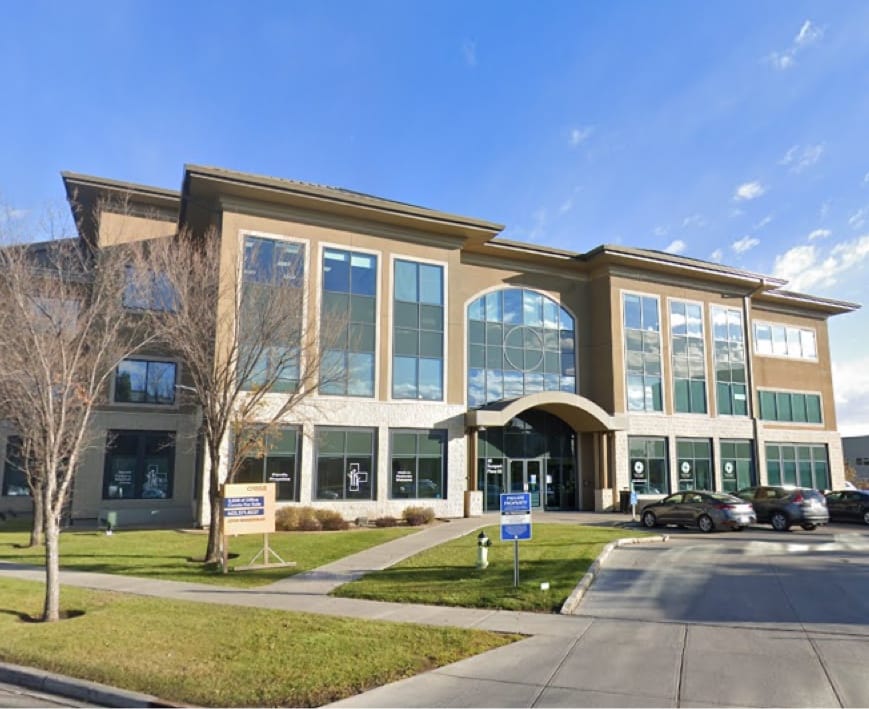 You can easily find our practice in the same building as the South Calgary Medical Clinic. Validated, accessible parking is available in front and beside the building.
Our Address
105-40 Sunpark Plaza SE

Calgary

,

AB

T2X 3X7
Contact Us
Clinic Hours
Monday

:

12:00 PM

–

8:00 PM

Tuesday

:

9:00 AM

–

5:00 PM

Wednesday

:

9:00 AM

–

5:00 PM

Thursday

:

9:00 AM

–

5:00 PM

Friday

:

9:00 AM

–

5:00 PM

Saturday

:

Closed

Sunday

:

Closed
*Closed all weekends and statutory holidays.